HYBRID WORSHIP
We are currently worshipping in the sanctuary, and "broadcasting" on the Zoom platform to those at home. If you would like to join us, please email either or .
Church reopening practices
Following are the current practices we've put in place at St. Luke:
We will not ask for proof of vaccination to attend worship or other church functions, but we ask that people decide for themselves, based on their vaccination status, whether they feel safe and/or comfortable participating in worship in the sanctuary or other activities at church.

We ask that people self-assess their physical condition, and stay home if they are not feeling well.

We will no longer require masks, but we recommend that people continue to wear masks if they have not been vaccinated or if they are more comfortable doing so.

We will not require worshipers to sit 6 feet apart, but we invite people to decide for themselves how much physical distancing they need, and we all respect those choices.

We will continue to pass the peace without touching for now.

We will permit singing in worship.

The full choir will not perform in worship until fall, but small ensembles will perform this summer, and they will remain at least 12 feet from worshipers.

We will not take temperatures or prepare for contact tracing.

We will continue to worship both in the sanctuary and on Zoom for now.

We will celebrate communion at least one more time with the pre-packaged kits, and then make a determination about safe communion practices going forward.
We will re-evaluate these practices on an as-needed basis.
WORSHIP is foundational
At St. Luke we understand worship as foundational - we honor the traditions of Word and Sacrament because we value their timeless beauty, mystery, and meaning. We seek a relevant experiential understanding of the Bible through the experiences of an ancient people, who like us, are searching for a deeper relationship with God.
We love to worship in both traditional and non-traditional ways. We are relaxed but also appreciate the formality of ritual and sacrament.
Communion
We offer Communion the first Sunday of every month, whether together in person or on Zoom. The table is open to all people without exception. Jesus held no rules around who He ate with and neither do we. When we say "open and affirming," we understand this as in keeping with the love of Jesus Christ.
Music
Most Sundays we sing traditional hymns rooted in the experiences of countless men and women who came before us. We have a small but classical choir who grace us with their voices and dedication.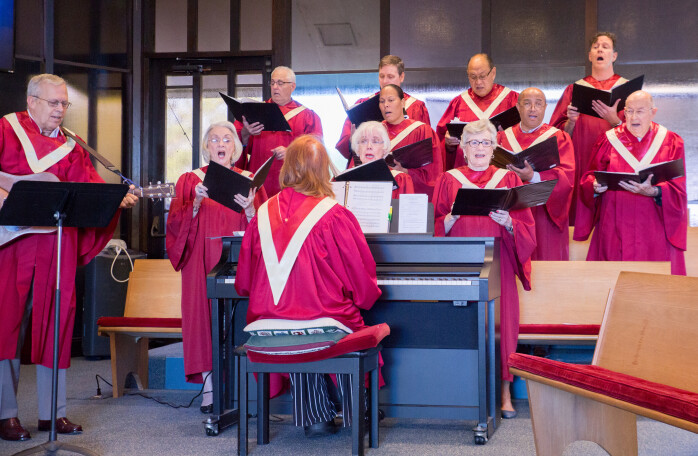 When meeting in person, we have an acoustic guitar service where we blend secular popular songs and modern hymns that are easy to sing on the third Sunday of the month..